Unless you've been living under a rock for the last six months, chances are you've noticed that a lot of businesses are changing the way they do, well, business. Companies are shifting the way they operate and very often, that means moving, in some capacity, to the cloud. The same goes for business phone systems and Microsoft is making it easier (and more economical) than ever for small and midsize businesses to keep up with the shift via Microsoft Business Voice. Want to see if it's right for you? Read along to learn all the ins and outs.
If you're curious about cloud-based phone systems, you've come to the right place. Microsoft is simplifying Voice-over-IP (VoIP) telephony by bundling several features and licenses into what they call Microsoft 365 Business Voice, making it easier and more economical to deploy a cloud voice solution than ever before. This short video does a really nice job of introducing Business Voice:


---
What is Microsoft Business Voice?
Microsoft 365 Business Voice is a cloud-based (curious about the cloud? Check out this super simple, informative read) phone system built for small and medium-sized businesses. It enables users to make, receive, and transfer calls to and from landlines and mobile phones on the public switched telephone network (PSTN) in Microsoft Teams.
Microsoft 365 Business Voice was launched in 2019. It is 100% cloud-based and built on the exact same infrastructure and services Enterprise customers were enjoying years ago. There are no compromises on the features and quality. It is truly an Enterprise-grade system offered at a lower price point than most traditional Voice-over-IP solutions. Plus, Microsoft Business Voice can be deployed rapidly, is easy to maintain, and will continue to improve through constant enhancement efforts made by Microsoft.
Cloud-Based
Being 100% cloud-based means that you do not need a server, switches, a gateway, or other cumbersome hardware to purchase, lease, and maintain. It also means that users can make and receive calls from anywhere without being tethered to their company office (and these days, that's a real win).
Just like other Microsoft Office 365 online services, Business Voice runs in the Microsoft cloud. It uses the cloud's backbone of vast and redundant (in a good way) sets of network pipe, ensuring the delivery of quality and constant reliability without compromising any modern protocol or standards.
On top of that, the service is available through Microsoft Teams, which I would bet, if you're not already using it, you're familiar with it ( if not, check on this article to familiarize yourself with Microsoft Teams). Through Teams, Business Voice delivers a consistent experience regardless of whether you use it on a desktop PC or Mac, a mobile device, a laptop, a desktop phone, a console, or a conference room. Since Teams is everywhere you are, there's no downtime and your team can start enjoying the Business Voice features right off the bat. If you're not sold on Teams yet and want to compare it to other well-known products, check out our Slack vs. Teams blog. If you're not sold on Business Voice yet, don't take our word for it! Listen to our customers explain why they made the switch:
---
What's Included with Microsoft Business Voice?
Microsoft 365 Business Voice bundles the 3 licenses needed to enable voice and conferencing services. If you have deployed a telephony system with Office 365 Enterprise before, you might already be familiar with these 3 licenses which are as follows:
A Phone System license, also known as cloud PBX (Private Branch Exchange) handles call routing and processing via auto attendants, call queues, and voicemail.
A Domestic Calling Plan, allowing you to make and receive PSTN calls to any number. Includes 3,000 minutes per user/month within the US & Canada
A dial-in Audio Conferencing Plan enables external callers to join a conference call by dialing in via a phone number and punching in an access code.
---
What Are the Minimum Requirements to Purchase Business Voice?
Microsoft 365 Business Voice is an add-on, designed to be bundled with most Office 365 subscriptions including the following:
Microsoft 365 F1
Microsoft 365 F3
Office 365 F3
Microsoft 365 and Office 365 Education A1 or A3
Microsoft 365 Nonprofit Business Basic
Microsoft 365 Nonprofit Business Standard
Microsoft 365 and Office 365 Nonprofit E1 or E3
---
How Much Will Business Voice Cost Me?
Microsoft 365 Business Voice is priced at $20 USD per user, per month. The price includes all telecom taxes and regulatory fees. If you were to purchase the 3 licenses separately, it would cost you $24. So you are saving $4 with the Business Voice bundle.
As I mentioned above, each user gets 3,000 minutes for domestic calls to the US and Canada. Even better, those minutes are all pooled together between your entire tenant. So, for example, if you have 20 subscribers, you actually get a total of 60,000 minutes per month to pool at no extra charge.
For audio conferencing, you get an unlimited number of 'dial-in' minutes. That means it does not cost you extra if your meeting participants are calling into your conference call. If during a conference call, you need to dial out to someone, those are known as "dial-out" minutes. Each Business Voice user gets 60 dial-out minutes per month, which are also pooled together across all users. Typically, meeting hosts will have already shared the dial-in info with all participants, making it less likely that a host will need to dial out.
In the event that you should exceed your total quota of minutes, you'll only be charged 1.3 cents per minute for domestic calls. Here is an excerpt from the Microsoft calling rate table to landline for calls originating from the US.
Australia: 4.4 cents
Brazil: 2.4 cents
China: 4 cents
France: 3 cents
Click here for detailed rates
With Business Voice, you do not pay extra for service numbers, which are typically used for your company's main phone number, department or division. This is all included at no extra cost.
As you can see, unlike traditional phone carriers, Microsoft is not trying to nickel and dime their customers and with this post, hopefully the pricing becomes clear so you see that we aren't trying to either.
One differentiator though? If you buy your Office 365 from BEMO, there are no contracts and no gimmicks. Every license is month-to-month and you won't be locked into a contract like many traditional carriers force you into.
What's the Catch?
You must be wondering: Okay, okay, this all sounds great. Too great. What's the catch? What's not included that will end up costing my company an arm and a leg? The short answer: Nothing! The base version of Business Voice is stellar (remember, it bundles three standalone offerings).
Still, depending on your business, there may be features you simply will need to add on. If you're weary of how add-ons can add up, we get it! However, sometimes add-ons can actually save you money in the long run. Here is a list of optional add-ons you may want to consider adding to your Business Voice plan:
Microsoft 365 International calling plan for SMB. If you will place a fair amount of international calls, you might want to consider it. It is only $12 extra per user and includes 600 international minutes
New! Extended Dial-out Minutes to USA/CAN. Only $4
Microsoft 365 Phone System - Virtual User. Free in most cases. You will need a Virtual User license to set up your auto attendant and call queues
Communication credit. We recommend our customer buying a minimum amount of communication credit to avoid running out of minutes. Most small businesses will put $50 aside in credit and that will keep them going for the entire year.
Common Area Phone and calling licenses for phone located in lobby, cafeteria and used for communal purpose. $8
Meeting Room for devices located in conference room. Only $15
Microsoft 365 Domestic Calling Plan. An add-on for your Common Area Phone, Meeting Room, Office 365 E5 or Microsoft 365 E5 plan. Only $12
Curious what you'll need to do to deploy your new phone system? Click below 👇
Microsoft Business Voice Features
The list of features with Business Voice is quite extensive and Microsoft is working actively to add more. Here is a shortlist of what is included as of today (for a full list of features visit Microsoft here):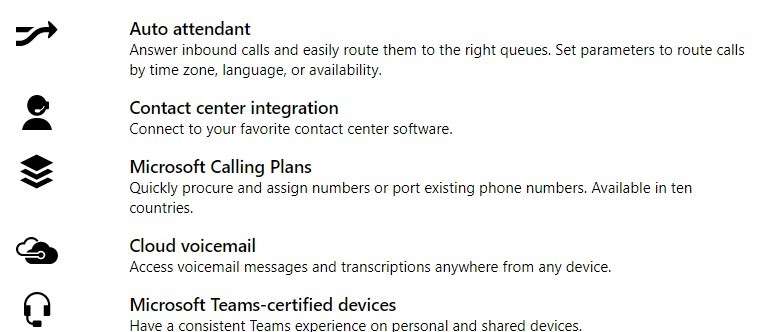 Benefits of Using Microsoft Business Voice
Here are the things I love the most about using Microsoft Business Voice:
No 1: It offers a consistent Teams experience on a wide range of personal and shared devices from desktop PC or Mac to mobile app, headsets, speakerphones, phones, Teams Rooms and cameras.
No 2: It works from anywhere. All of our BEMO staff work remotely and they are constantly on the move. Teams with Business Voice makes it easy for external callers to reach us, no matter where we are.
No 3: Its modern auto-attendant answers inbound calls and easily routes them to the right queues. Dial by name or by extension is also offered. To dial by name you can just say the name of the person or group you want to reach or use your keypad to spell out their name. You can also set parameters to route calls by time zone, language, or availability.
No 4: It's easy to roll out everything is in one place in the Teams Admin Center.
No 5: It is designed with security and privacy in mind just like any other Microsoft service. You can rest assured that privacy and security is Microsoft's top priority. Your service is hosted in your country and your calls and voicemails will not be routed onto third-party servers (located only God knows where!)
No 6: It is extensible. You can connect to your favorite contact center software or to a partner compliance recording solution.
But...again, don't take our word for it! Listen as Greg Ervin tells his story below:


It's a Wrap!
Well, there you have it, the ins and outs of Microsoft Business Voice. We've talked description, features, pros (though no cons because...I haven't thought of one yet! If you do, let us know), and pricing. If you think Microsoft Business Voice is for you, look no further. We are happy to help. Reach out in the chat or click the button below to schedule a short meeting with one of our team members:
Curious about deploying Business Voice on your own? Read our blog Microsoft Business Voice, Part II: Office 365 Phone Setup Prep or click the image below


Ready to hit the open (calling) road and do it on your own? Read Part III here: Business Voice & Microsoft Teams Calling, Part III: Setting Up Your Plan


Was this blog helpful? If not or if so, please let us know in the comments section below!